Texas Association of Psychological Associates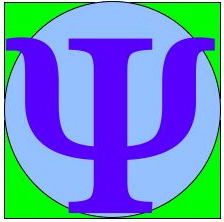 Representing All Masters-Degreed Psychology Professionals in Texas


The TSBEP
no longer prints a
Rule Book.
The current rules may be found
here
.
The Texas Association of Psychological Associates represents psychology practitioners licensed at the master's level. Licensed Psychological Associates provide a full range of psychological services, including assessment, consultation, and therapy.
Psychological Associates have existed in Texas since the first law regulating psychology was passed over thirty years ago.



Our mission

:
• To provide professional development and representation of Psychological Associates in Texas.
• To provide information to all members on interesting new research and innovative practices.
• To promote the provision of high quality, culturally sensitive mental health services to all
segments of the population without regard to socio-economic status and in diverse and
non-traditional settings.
• To encourage communication and cooperation among all members of the mental health
community.
• To recognize the skills and expertise of all mental health practitioners.



TAPA


• Advocates for your profession
• Keeps you informed on issues important to you
• Encourages communication among practitioners
• Promotes employment for masters-degreed psychological practitioners
• Approves Continuing Education opportunities

Join Us!

Contribute!


The TSBEP has passed rules giving Qualified LPAs Independent Practice!


To be Qualified, if you must have had an active license on August 31, 2017​, and if you have maintained an active license throughout the three years preceding that date, you are considered to have met the requirements and may practice independently.
The new rules were passed by the TSBEP on November 9, but will not go into effect until 20 days after the adopted rules appear in the Texas Register. The new Rules here​
The Application has been posted on the TSBEP website which should be submitted by LPAs who do not currently meet the Qualifications, but who will do so in the future.

Most "Qualified" LPAs have received new Licenses from the TSBEP. However, there are many Questions remaining as we work to take our place along with the LPCs, LMFTs and SWs.

A Frequently Asked Questions page is here.​​


TAPA Is Working For YOU!
Join TAPA Today!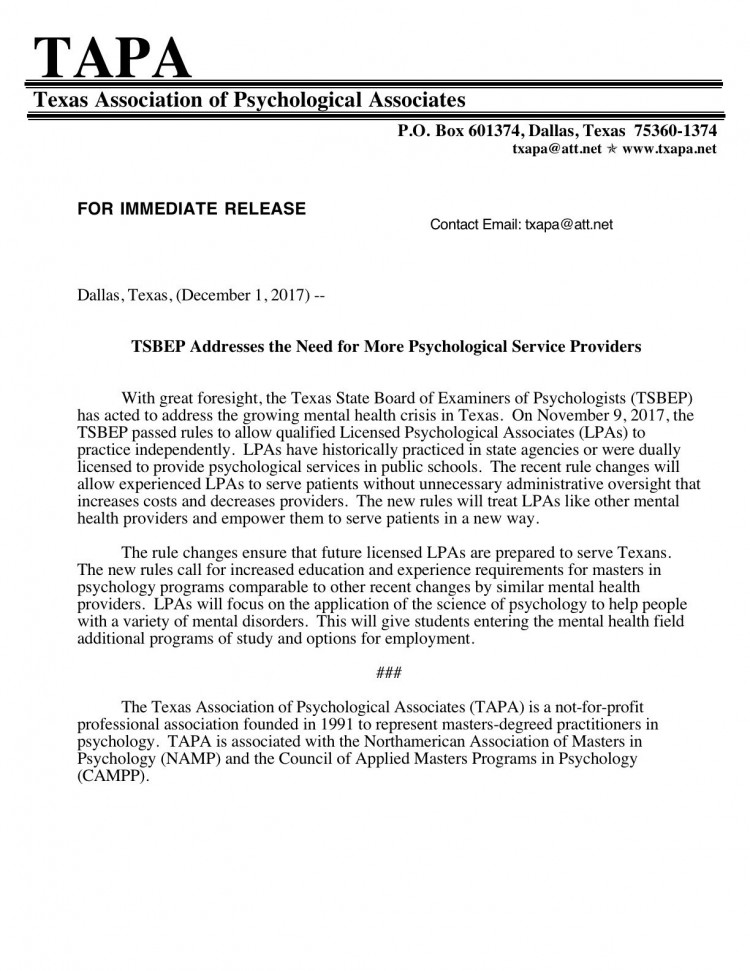 Click here for a printable copy.

Many of you who met the qualifications for Independent Practice will have received your NEW license from the TSBEP giving your Independent status.

Please READ the letter that was enclosed.



It outlines a few warnings as we move into this new phase of practice:
You must use the title

licensed psychological associate

or

psychological associate

when practicing under this license.You may

NOT

call yourself a

licensed psychologist

or

psychologist

.
You remain subject to all of the Board's rules, including Board rule 463.8(f) pertaining to the required notification of patients and Board rule 465.9 relating to competency.

You must exercise great care to ensure you continue practicing only within your area(s) of competency.

You may

NOT

conduct child custody or adoption evaluations, competency or insanity evaluations, or fitness-for-duty evaluations for law enforcement personnel. According to the relevant statutes and regulations governing these evaluations, licensed psychologists are the only providers licensed by this agency who are permitted to conduct these evaluations. [These are

not

rules passed by the TSBEP, but are rules or regulations specific to these evaluations.]

You are encouraged to review Title 22, Part 21, Chapter 465 of the Texas Administrative Code (i.e. the Board rules governing the rules of practice) to ensure you have a thorough understanding of those rules before engaging in independent practice.
An interesting article entitled "Texans Will Benefit When Psychologists Are Pushed From Their Safe Space," authored by Mary Lou Serafine, can be found here or the text can be found here.

She is the attorney whose suit against the TSBEP resulted in their definition of psychology being declared unconstitutional because it was too broad and in it being rewritten.